---
HOME
HOME
HOME
HOME
Also Facepainting or Airbrushtattoos... Or individual Bodypaintings for private Photoshootings... My clients come from:
Alzey, Aschaffenburg, Baden Württemberg, Bad Dürkheim, Bad Homburg, Bad Nauheim,
Bürstadt, Landau, Neustadt, Bad Vilbel, Bensheim, Bergstraße, Darmstadt, Dieburg,
Dietzenbach, Frankfurt, Friedrichsdorf, Gernsheim, Griesheim, Groß-Gerau, Grünstadt, Hanau, Heppenheim, Heidelberg,
Heilbronn, Hessen, Ingelheim, Karlsruhe, Langen, Köln, Kurpfalz, Lampertheim,
Lorsch, Ludwigshafen, Maintal, Mainz, Mannheim, Mörfelden, Neu-Isenburg, Neustadt, Offenbach, Pfalz, Pforzheim, Pfungstadt,
Rhein-Main, Rhein-Neckar, Ried, Rüsselsheim, Stuttgart, Schwetzingen,
Speyer, Stockstadt, Taunusstein, Viernheim, Weinheim, Wiesbaden, Wiesloch, Worms, Würzburg, Kaiserslautern, Bad Kreuznach,
Odenwald etc.
| bellypaintings.de © 2012 – 2018 by farbtraeume.com
The special experience
Enjoy the privacy in my Photostudio while

your favorite motive

is evolving on your belly.

Not only an event for you as parents- to-be –

you will get a lasting memory for your whole family,

done by a professional photographer.
Watch my videos, see how the bellypaintings
come into being


Making of Bellypainting "Baby Sunshine"
Have you got an impression

of the atmosphere in my studio?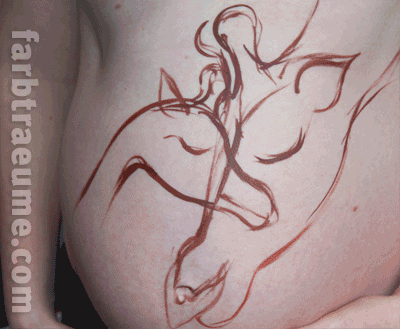 Popular motif: giraffes (Photos: Michaela Zeng)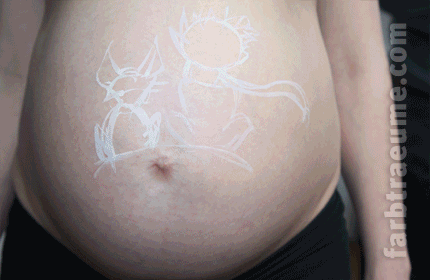 Le petit prince (Photos: Michaela Zeng)